About Master Cheetah Chanthanao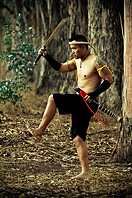 There are no names more synonymous with American Muay Thai than that of Legend Master "Cheetah" Chanthanao. Recenly US Combat Sports sat down with the Master to discuss Muay Thai, and his legacy.
How long have you been involved in Muay Thai and How many fights have you had in your career?
A really, really long time. Actually, I have been training Muay Thai since I was 6 ½ years old which means I have been training for almost 42 years. As for fights, I have officially had 150 professional fights.
How long have you been in the United States and what brought you here?
In 1980 I started teaching part-time and fighting part-time. I was actually one of Fairtex's first instructors in America. Later I would leave Fairtex and start training in the Bay area.
You are considered to be one of the American Muay Thai pioneers and even the "Father" of Muay Thai in the Bay area, what made America so prime for Muay Thai?
I really enjoyed the American enthusiasm for Muay Thai and so it made it really easy for me. In Thailand, Muay Thai is a national sport and so the newness has worn off. In the United States I found a really high level of excitement. People in the United States are very goal oriented and it helps. When the students are eager to learn, it makes my job so much easier and fun. Also, there was a lack of true Muay Thai training and I was perfect for the job.
How do you think Muay Thai has effected MMA and do you think it is any more important than any other skill set?
Muay Thai has been embraced by the MMA community because it is a very effective way of fighting. It is actually recognized as the "King of the Ring" because it uses kicking, punching, elbows, and knee's. I think that Muay Thai is a complimentary martial art in modern day MMA. In order to be a complete mixed martial artist today, you must be truly mixed. You must be as good at grappling as you are in striking. These martial arts go hand in hand. They call it mixed martial arts for a reason.
What do you think about the future of Muay Thai and America?
I think the future is really good. Besides continued involvement in MMA, there are many benefits to Muay Thai training. Training Muay Thai and becoming a great fighter is very good but not everyone is in Muay Thai to become the best fighter. Many people will use Muay Thai to enhance their healthy lifestyles and even more important to become better people. Muay Thai is a way of life and I am glad that I can share my knowledge with the next generation of Muay Thai students. Let's continue the Muay Thai legacy and continue to make it one of the greatest sports in the world.
Is there anything else that you would like to share?
I would like to thank my father Samboun for encouragement to be the best that I can be. Also, I would like to thank my mother for teaching me kindness and love.
About Master Cheetah Chanthanao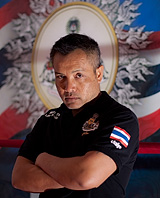 To say that Chansadeth "Cheetah" Chanthanao lives for Muay Thai would be an understatement. With three decades of experience as a fighter and then a trainer, he is a strong supporter of Muay Thai, and has worked tirelessly to share his knowledge of Muay Thai in America.
Cheetah began his commitment to Muay Thai when he was just a boy. After years of grueling training in Thailand's Muay Thai camps, he eventually became a professional fighter. He fought in Chiang Mai, Udon Thani and Bangkok, amassing over 150 fights before coming to America. He has also fought in both the United States and Australia. He is a true Muay Thai veteran – and yet, outside the ring, he's a cheerful and soft-spoken man who truly cares about the welfare and lives of his fighters and students, and who pays each one the individualized attention he or she needs to improve.
Since coming to America, Cheetah has been an avid proponent of Muay Thai and an active participant in the Muay Thai community – both in the San Francisco Bay Area and throughout North America.
As trainer and a teacher about Muay Thai, Cheetah hopes to share with others the culture that he loves so much – but, just as important, he also wants all of his students to appreciate both the philosophy and techniques of Muay Thai.